Veteran Jamaican artist Gloria Escoffery, O.D., is dead. She died at her home in Brown's Town, St. Ann, on April 24 after ailing for some time. She was 79 years old.
One of the few local artists to have developed outside of the Kingston orbit, Ms. Escoffery (affectionately called "Ms. G"), was also a seasoned poet, teacher, freelance journalist and member of the National Gallery of Jamaica.
She was born at Gayle, St. Mary, on December 22, 1923, daughter of the late Dr. William T. Escoffery, medical officer, and his wife Sylvia.
Ms. Escoffery attended St. Hilda's High School (Jamaica Scholar 1942), and later studied at McGill University in Canada, Slade School of Fine Arts in England, and the University of the West Indies's School of Education.
She worked for a while in advertising until 1947 when she left to work with the Institute of Jamaica. Neither of these occupations was sufficiently fulfilling; so when she was approached by the late Edna Manley, O.M., about filling a writing vacancy at 'Public Opinion' newspaper, Ms. Escoffery grasped the opportunity with enthusiasm. It was a part-time job paying her two pounds and 10 shilling per week.
Later she was admitted at Slade School of Fine Arts in London, where she studied for two years. Upon completion of that course, she went to Barbados where she spent a year teaching art at a high school for boys. However, she soon grew restlessand returned to Jamaica where she 'dabbled' in journalism for a while.
A teacher
In 1955, this talented artist went to teach at Knox College for one year before coming back to Kingston to paint at every given opportunity, while still doing a little journalism to make some extra money. Her critical writings on art apeared in the Jamaica Journal during the 1980s, and, in later years, she was also a regular contributor to The Gleaner on literary and community matters.
Ms. Escoffery was involved with the establishment of the Brown's Town Community College in her "beloved" home town, and taught English at the institution for 10 years.
A prolific painter, Ms. Escoffery has exhibited extensively here in Jamaica and abroad. Her works are featured in many public and private collections. Her first solo exhibition was in 1944 at Ken Streete's Little Gallery in Kingston.
She was made an Officer of the Order of Distinction (OD) in 1977 for services in the field of Art, and received the Silver Musgrave from the Institute of Jamaica in 1985. She was inducted in the Caribbean Hall of Fame last year. Ms. Escoffery is one of 21 artists featured in the book A Celebration of Jamaican Art, published by the Jamaican Artists and Craftsmen Guild.
In an interview with The Sunday Gleaner last October, Ms. Escoffery pointed out that she was engaged in cataloguing the extensive collection of art works she owned.
It was her opinion then that a database of Jamaican artists would be a tangible form of recognising artists and taking the arts seriously.
"A database containing biographical and other information about Jamaican artists that could be available to foreign researchers, even locals, who are always seeking information," she told The Sunday Gleaner then.
In fact, she said she would be willing to donate her house to be established as a centre for art research, along with the over 1,000 art books she owned.
Ms. Escoffery is survived by her son, Fabian, daughter-in-law Michelle, brother Michael, three grandchildren, other relatives and friends. Funeral arrangements will be announced later.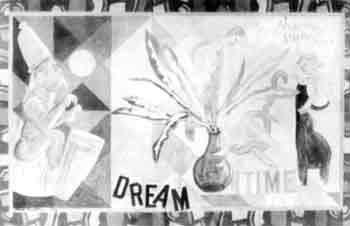 Dream Time
Photo Jamaica Observer
... National Gallery pays tribute to Escoffery
In paying tribute to the late Jamaican artist, Gloria Escoffery, chief curator of the National Gallery of Jamaica, Dr. David Boxer, has described her as a "true original painter."
According to Dr. Boxer, she was a "painter, poet, teacher, critic, bibliophile, daughter, sister, mother and friend. She was all these but, above all, she was a painter. She loved painting and loved thinking about painting. She belonged to the generation of (Ralph) Campbell, (Albert) Huie and (David) Pottinger, and, indeed, her early work shares many affinities with these painters of the Jamaican land and people. Highly educated and widely-read, her work, however, always had a strong intellectual and literary basis."
He named Poussin, the great French classicist, as her favourite painter, and said "her continued study of his works imparted a structural clarity and strong colour sense to her own canvasses."
Another close friend and fellow critic, Norman Rae, said "among her generation of artists, Ms. Escoffery was perhaps the most intellectually tough...In seeking and finding her own path, she could understand and, if it was necessary, draw on the concepts and philosophies of her illustrious predecessors in world art where it suited her. Her library may well be the best collection of books on art to be found in the island. She read them voraciously."
Jamaica Gleaner , 2002 April 28