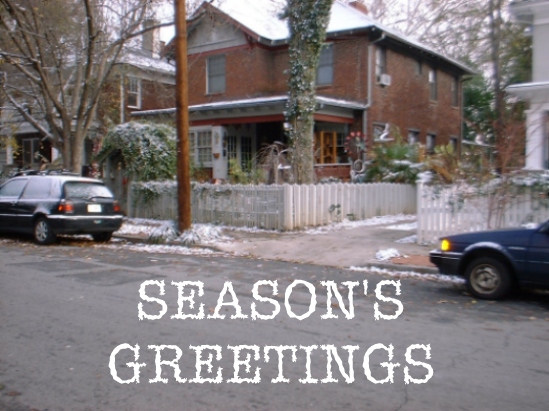 My New Home - First Snow of the Season

Dear Family & Friends:

It's that time again to touch base with loved ones. As many of you know, I left Jamaica in September and now live in Atlanta, Georgia. Having completed a year's consultancy in Trelawny, I chose not to renew my contract but returned to Kingston. The next few months were spent looking for work, having repairs done to the house and sorting through and tossing out the accumulated detritus of 30 years. I had been hankering after a change of scenery and wider horizons and with my businesses folded and no solid employment prospects to detain me I decided to leave. The declining economy and mounting crime contributed to this decision but not as much as the coarsening of attitudes that I perceived; after all, I did live through and survive the 70s when things were as bad.

The first two months here I was house-guest of Michael Davidson, friend and former neighbour at Gallery Way, and his partner, for which I am eternally grateful. Michael took me in hand and gave me an introduction to the metro area and some of what it has to offer, not least of which is the Dekalb Farmers Market where produce from around the world is readily available. There is no lack of yellow yam, dasheen or scotch bonnet pepper though I am yet to see ackee and breadfruit. What I miss most is Jamaican fruit as the flavour of the citrus and ripe bananas here is as if diluted. The paucity of peaches in this the Peach State was as disappointing as it was remarkable. It reminded me of when we have no sugar in Jamaica. Plus ca change, plus c'est la meme chose, and another reminder that the only thing we can be certain of is change. Otherwise, I'm in food heaven with an abundant supply of organically grown sprouts, broccoli and mushrooms.

I continue to be blessed as I have the good fortune now to be sharing living space with Sammie Nicely, renowned African-American ceramicist and art educator. (He has exhibited at the then John Peartree Gallery in Kingston where I met him.over 20 years ago).

Every inch of available wall-space is covered in art, found objects and material that may one day become art, combined with a tangle of plants to produce the effect of creative chaos akin to my own yard. I have the benefit also of the companionship of his intelligent and idiosyncratic Rottweiler, Buck, without the responsibility of walking him or cleaning up his mess. In my presumptious, take-over, I-know-what's-good-for-you manner (which I have to curb, I know) I put Buck on a diet as he was too fat - eating too much and not getting enough exercise - like some people I know. The house is located in Midtown, a highly desirable address, near to shopping, restaurants and clubs and a short walk from Piedmont Park, the largest greenspace in the city. Bus and rail transportation is reliable and fairly extensive so few places are out of reach.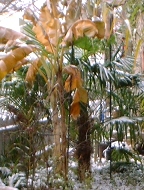 The weather had been good but turned cold in early December. I'm adjusting but feel somewhat like this banana and palm tree in the snow, out of my element.
Some days I help out at Moving Spirits Gallery which Sammie and four other artists own in a very loose arrangement. I will try to organise them into a marketable, profitable entity but this is a major challenge as they are stubbornly individualistic and do not often meet or agree. My group facilitation skills are of little avail here. They would like to hand me responsibility for the gallery but without any authority or budget. Did I hear you say straw basket to carry water? We'll see. Otherwise my time is spent exploring the city, reading, writing and research.
There is an established community of Jamaicans here, some of whom I knew before, others I've just met. Day by day, I'm extending my social network and strengthening my support system. I think of you all fondly and appreciate whatever part you have played or continue to play in my ever-unfolding life. Whatever I am, I owe to you. Whatever I've done has not been without you. I encourage you to continue dreaming your dreams, to be more and do more, recognising the impact you have on everyone whose lives you touch. This is just another name for love, which I now reflect back to you.
Have a Wonder-filled Christmas, Hanukkah, Diwali and Kwanzaa
A Peace-filled and Prosperous New Year And A Marvellous Millenium

Year-end 2000

© 2000