Time has no divisions to mark its passage, there is never a thunderstorm or blaze of trumpets to announce the beginning of a new month or year. Even when a new century begins it is only we mortals who ring bells and fire off pistols.
Thomas Mann, 1875-1955, German Writer, Critic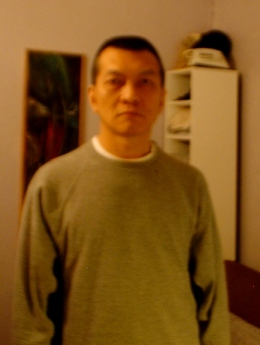 Due to the centers of power and population being located in the northern hemisphere, the Northern Winter Solstice has been accepted as the end of the year. To Northerners, nothing could seem more natural than the association of winter with closure, while Southerners are experiencing the heat and vigor of midsummer. Those of us from the tropics where it is always summer, can afford to be ambivalent about this, or perhaps enjoy a broader perspective, as we accept the hegemony of the Gregorian Calendar while being able to relate to Christmas and its distinctively northern European trappings, so totally inappropriate in the sunshine.
All this just reminds me how arbitrary time, and the meaning we give to it, is. December, originally the tenth month, in the human and, therefore, subjective, order of things, is as good a time as any to pause and recollect, renew contact and catch up on each other.
When we speak of "keeping in touch" we know whereof we speak, that it is not a mere metaphor but a consummation much to be desired.
Ashley Montague Francis Montagu, 1905-1999, British/American Anthropologist, Biologist
Last year this time, i left Atlanta to visit Judy and Charmaine Limonius in New York. At Judy's Christmas do, i was able to see their parents, Maas Duds and Miss Lanty, Aunt Carmen and the entire clan, and catch up with what each was doing. In Manhattan, Hugo Gregory introduced me to the delights of Zen Palate and the raw food offerings of Quintessence. After the holidays, i stopped off at Princeton to see Bobby Bromfield on my way back to Atlanta, before visiting with Carl Neita (shown with one of their two cats, Carrot Top) and his partner, Namon Armstrong, in Washington, DC.
I'm still in DC. Never made it back to Atlanta. Carl and Namon have been very accommodating (and conveniently vegetarian), despite the disruption of ongoing remodeling of the house. Carl is a very good painter but tortures himself teaching elementary school to pay for the remake.
This is the fifth address i've had in three years, moving from Kingston to Martha Brae, then to Decatur, Georgia, with Michael and Eddie until i moved to Sammie's place in Atlanta, and now DC, making me somewhat of a rolling stone in marked contrast to my being in situ at Gallery Way for over 25 years. I may be on to something if you follow what Churchill said:
To improve is to change; to be perfect is to change often.
Winston Spencer Churchill, 1874-1965, British Prime Minister, Historian, 1953 Nobel Laureate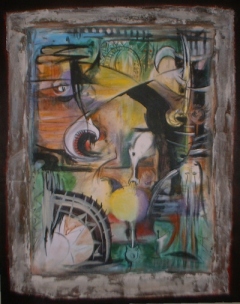 Subterfuge, Carl Neita, 2000, acrylic on canvas, 30 x 42 in
Courtesy of the Artist
I've spent most of the last two years working on my anthology of quotations entitled Wisdom for the Soul: Five Millennia of Prescriptions for Spiritual Healing , garnering much material from the respective libraries of my hosts wherever I've pitched. Many hours have been spent at the Margaret Mitchell Library in Atlanta, and at the Martin Luther King Library and Library of Congress in DC. I've been fortunate to elicit interest in the manuscript from two literary agents who are awaiting, i hope with bated breath, its completion.
Patience is power; with time and patience the mulberry leaf becomes silk.
Chinese Saying
Reality, however, has intervened, as i've had to find work in order to subsist, so have less time now to devote to the necessary fine-tuning and final editing. I got Work Authorization from the INS in June, just as my resources were about to run out. After dozens of applications, i was able finally to land a job, in the Gift Department of Georgetown University Bookstore. My experience at Xaymaca Craft more than prepared me for this. The pay's not great, but it's an income.
Hire out yourself to work which is beneath you rather than become dependent on others.
Talmud, Jewish Sacred Text
In addition, i get medical and dental coverage which i haven't had in two decades, not since leaving Dawn Rich's employ at MARS Limited. I often buck up Jessica Jones, with whom I worked at MARS, in the cafeteria where we cut and swallow together as we get only half an hour for lunch. Jessica is Patient/Doctor Relations Manager at adjoining Georgetown University Hospital. Her home-based gallery, Zemi, is in abeyance until she finds a new house. Meanwhile, she's cotching with daughter, Bianca, in Virginia.
The response so far to my asylum application has been a thundering silence from the INS which, no doubt, has bigger fish to fry as it tries to interdict potential terrorists post 9/11, defend its release of the likes of Lee Boyd Malvo, and agonize over its own status. (While the story was hot, i used to tell people Malvo went to the same high school as me, York Castle, for a short while apparently, before his mother took him off to Antigua.) But i'm not worried; they can take as long as they want.
Why destroy your present happiness by a distant misery, which may never come at all? For every substantial grief has twenty shadows and most of the shadows are of your own making.
Sydney Smith, 1771-1845, English Cleric, Essayist, Journalist, Wit
I've done a bit of traveling within the US, having been invited to be part of a panel at the Asian/Pacific American Conference at Oberlin College in March. The theme was "Transcending Boundaries," and i was happy to be recognized for my intersectionality. There i was privileged to meet Frank Wu, the first Asian-American professor at Howard University Law School, and PBS talk show host. He was the keynote speaker and on the same panel with me. He very graciously presented me with an inscribed copy of his book Yellow: Race in America Beyond Black and White . Made many trips to New York this year, staying mostly at Charmaine's comfortable apartment in Washington Heights, overlooking the Hudson River and George Washington Bridge, most recently last month when i attended CUNY's Center for Lesbian and Gay Studies Conference. There i connected with Thomas Glave again, who had been instrumental in getting me there. We, and Colin Robinson, originally from Trinidad, formed the West Indian bloc, and along with the delegates from South Africa, Nigeria and India, represented the Third World. The conference sought to establish an International Resource Network. Charmaine and husband, Txema, were in town from Kingston where they are posted with the UN so when Judy and husband, Tony Codner, came over we had a grand reunion, reminiscing about Brown's Town, where we grew up, after Judy and Charmaine had filled me in on Joyce Logan's funeral there which they both attended.
True friendship multiplies the good in life and divides its evils. Strive to have friends, for without friends is like life on a desert island ... to find one real friend in a lifetime is good fortune; to keep them is a blessing.
Baltasar Gracian y Morales, 1601-1685, Spanish Jesuit Writer, Philosopher
Wherever I am is home. There are folks here in DC i've known from before and new ones I've met. Ferron Hinds, who used to live beside me at Gallery Way, introduced me to the Caribbean Supermarket where I can get fresh callaloo, sorrel, bulla and hardough bread made right here in DC. There are countless Jamaican restaurants, even Chiney patty shops. Just today i got bread, veggie patties, plantain tart and potato pone at Brown's Caribbean Bakery, and a Trini roti at Rita's across the street from there on Georgia Avenue. It was my way of saying Krismos a com ahn mi waan mi laama. I have the sorrel and white rum which Ferron brought back from Jamaica for me. Julius Powell stayed here from Boston for a few days in March while he attended a conference. They kept him so busy we were able to hang out only one night. Heather Royes was in DC for a while but has since returned to Jamaica. I did lunch with her and Claudia Robinson who was in town playing the nursemaid in a production of Romeo and Juliet . If you're lucky you may catch her on cable in one of the many reruns of movies she's been in.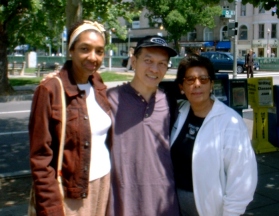 Claudia, me, Heather in Dupont Circle
Sister, Lily, visited in September when we got to try out many of DC's restaurants and discover all the shoe outlets. Her favorites seem to have been the food court at Union Station and DSW Shoe Warehouse at Pentagon City. No monuments and museums for her.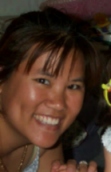 Niece, Melanie Chin Peffers (Sister, Gwen's first daughter) had surgery and radiation treatment for breast cancer in November. Fortunately, they seem to have caught it in time.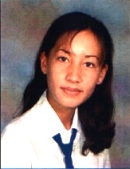 Grand-niece, Alexi Rennalls (Betty's first child) is now on art scholarship at Hobart & William Smith College in upstate New York. "Who knew," quipped Aunt Suzanne Lee Browne (Lily's third daughter, now living in Knoxville, Tennessee) "we had another artist in the family?" Indeed. The rest of my family of origin have been as uncommunicative as expected except for the occasional e-mail and rarer phone call. But that's okay. :)
Happiness is having a large, loving, caring, close-knit family in another city.
George Burns (Nathan Birnbaum), 1896-1996, American Comedian
The bond that links your true family is not one of blood, but of respect and joy in each other's life. Rarely do members of one family grow up under the same roof.
Richard David Bach, 1936-, American Writer

Meanwhile back at the ranch, John has been taking care of business, coping with leaks and flood rains and a missing tenant, while not missing a note of his part in Voice, the Temple of Light's choral group. He is also completing his preparation for the ministry. This time next year, we'll be addressing him as Rev. John Scott. I hope to be at Asilomar, in Monterey, California, when he is presented next July.
A friend is one that knows who you are, understands where you have been, accepts what you have become, and still gently allows you to grow.
William Shakespeare, 1564-1616, English Poet, Dramatist, Actor

Mark (Ramsay) seems to have settled comfortably in Montreal, having acquired Canadian citizenship. I've been trying to get him to visit me but he's busy being a techie on the end of a phone line.
Life, especially in Jamaica, can seem nasty, brutish and short. The world seems to be teetering on the edge of chaos, with violence, hatred, fanaticism and greed as its mode of being. But when the night is darkest, our lights shine brighter.
It is not by meticulous care in avoiding all contaminations that we can keep our spirit clean and give it grace, but by urging it to give vigorous expression to its inner life in the very midst of all the dust and heat.
Rabindranath Tagore, 1861-1941, Indian Poet, Dramatist, Essayist, 1913 Nobel Laureate
We know not what the New Year may bring; the world may very well be at war as the axes of "good" and "evil" confront each other. There are no certainties; there never were.
In every age 'the good old days' were a myth. No one ever thought they were good at the time. For every age has consisted of crises that seemed intolerable to the people who lived through them.
(Justin) Brooks Atkinson, 1894-, American Essayist
Living is a form of not being sure, not knowing what next or how. The moment you know how, you begin to die a little. The artist never entirely knows. We guess. We may be wrong, but we take leap after leap in the dark.
Agnes George de Mille, 1908-1993, American Choreographer
Do not let yourself be disturbed by what is to come; rather, be in that which is still around you and which enters with an immeasurable past into the present that is yours.
Rainer Maria Rilke, 1875-1926, Czech/Austrian Poet, Writer
What we are left with then is to appreciate the moment we are in. This is the best time to be alive, because we are, and to enjoy it to the fullest, because we can.
This time, like all times, is a very good one, if we but know what to do with it.
Ralph Waldo Emerson, 1803-1882, American Poet, Essayist, Philosopher
May you find the meaning in your life that makes it all worthwhile, allowing you to focus on what is real for you, and the courage to live your utmost possibility.
Have a Wonder-filled Christmas, Hanukkah, Diwali, Kwanzaa, or whatever other form your Northern Winter Solstice Celebration takes.
And a Peace-filled, Healthy and Prosperous New Year.
With Great Love,


Year-end 2002
Quotations from unpublished manuscript Wisdom for the Soul: Five Millennia of Prescriptions for Spiritual Healing

© 2002