I took some time off in February to visit with family in Miami. My sister, Gwen, and husband, John, came down from Orlando, their daughter, Melanie, and family came down from West Palm Beach, to join their son, Ric, and his family. I stayed with Mag's daughters, Carolyn, and Gillian, and her husband. We took the opportunity to visit with Sam and Daisy Lee, Alfred's brother and his wife, who live in a retirement community just outside of Miami, and with David and Peggy (Samuels) Richards, Peggy being the ward of Miss Mutts (Myrtle Samuels) former postmistress at Brown's Town. Peggy is originally from Cuba and is one of Mag's, and our family's, oldest and dearest friends. Some have had health challenges and even major surgery, but have kept their spirits up. It is gratifying still to have living connections with the past.
While in Miami, i took part in the Spring Festival celebrations put on by the Chinese Cultural Association, which consists mostly of Chinese-Jamaicans. I saw many familiar faces and even bucked up Beverly Spaulding who used to be my marketing manager at Xaymaca Craft. It was great to reconnect and be among one's own.
I bought a Chinese Benevolent Association t-shirt celebrating the 150th Anniversary of the arrival of the first Chinese in Jamaica and wear it proudly in DC, sparking many questions as to how and why Chinese came to be in Jamaica. I actually don't even need the t-shirt as my accent intrigues many who come into the store, both fellow Jamaicans and non-Jamaicans who cannot contain their curiosity, but are impelled, with great tact and as much grace as they can muster, to inquire where i'm from.
To explore some of my roots more, i had wanted to attend the 2nd Hakka Conference being held at the University of York at the end of this month, but there's not enough time for me to get a travel permit from CIS that would allow me to re-enter the US without any problem. Tony MacFarlane in Hamilton, who attended last year and is going again, kindly offered to host me. Hakka-speaking Chinese are one of China's ethnic minorities, formerly despised by the Chinese ruling class and only now beginning to affirm their identity. Most of the Chinese in Jamaica and the Caribbean are of Hakka origin and they have been instrumental in holding the Toronto conferences. Easton Lee and Victor Chang of UWI, among others, represented Jamaica last year. Lord, do i really need another minority identity?
The only visitors i've had this year were nephew, Ric, from Miami with his kids, Richie, Edward and Cindy. Ric works for American Airlines so they were able to fly up for the day which we spent at the museums on The Mall. The boys enjoyed the National Aerospace Museum in particular. It was good to be able to spend that short time with them, seeing how quickly they grow up, and hopefully, contributing to the creation for them of happy childhood memories.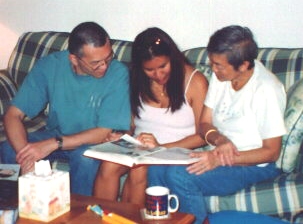 Me, Melanie (niece), Gwen (sister) recounting family history at Ric's house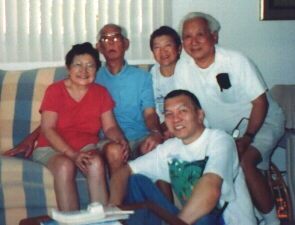 Daisy & Sam Lee, Gwen & John Chin, me at the Lees in Florida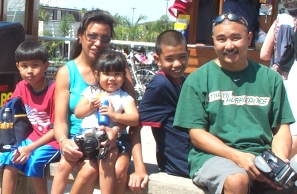 Edward, Coleen, Cindy, Richie, Ric, at Disneyland
(They didn't send me any pics of the DC day trip)