Living is a form of not being sure, not knowing what next or how. The moment you know how, you begin to die a little. The artist never entirely knows. We guess. We may be wrong, but we take leap after leap in the dark.
~ Agnes de Mille ~
For the first time in 12 years i'm not writing from Washington DC but from Chiang Mai in northern Thailand. I finally gathered courage and took the plunge of leaving DC and the States for parts unknown. Actually you could say i was pushed as my limited financial resources cannot keep pace with the skyrocketing cost of living in the US, and in DC in particular. Casting about for someplace where the dollar would stretch further, i had been researching Panama, Costa Rica, Ecuador, and Thailand, and was favoring Ecuador for its year-round spring-like climate in the highlands. Thailand won out simply because i had made a Facebook friend there. More on that later.
After some soul-searching, i finally decided to apply for US citizenship. I came to the conclusion that i would not be losing anything, i'd still be Jamaican, but i would gain the protection of the US government and a more universally accepted passport. So i had my swearing-in in April and passport in hand a month later.
Ahead of my move, i had the onerous task of getting rid of stuff that i had accumulated over the years. Though living simply and frugally, i was amazed at just how much stuff there was. I disposed of things through Craig's List, posting in my neighborhood Faceboook group and in my building lobby, and had a series of sidewalk sales. E-bay posts produced no sales. Eventually i was able to reduce my load down to where it fit into 21 boxes, now in storage in Maryland and to be shipped here eventually.
Before i left DC i completed a certificate course in Teaching English as a Foreign Language (TEFL) offered by Oxford Seminars at George Washington University. There is a demand for teachers of English abroad. In the event i need to, i'll have another marketable skill. Out of the group, last i heard Ibrahim is in China, Gabriel and Bo in South Korea, Shawn in Saudi Arabia, and Moira is in Brazil.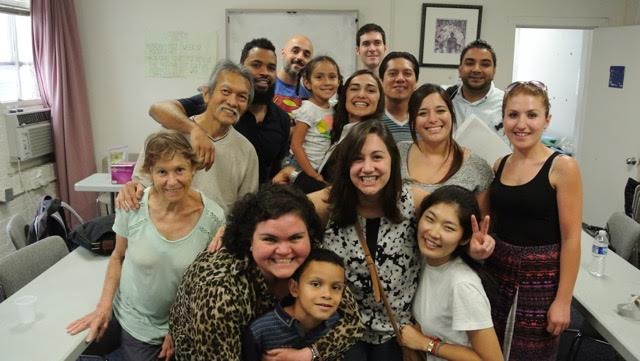 Oxford Seminars TEFL group
GWU, Washington DC
There is no beauty but in relationships. Nothing cut off by itself is beautiful. Never can things in destructive relationships be beautiful. All beauty is in the creative purpose of our relationships.
~ Ayi Kwei Armah ~
I also took the opportunity while still in the Western hemisphere to visit adopted son, Mark, in Montreal. We spent many hours reminiscing, this time making sure to audio record so i have reference material for writing my memoirs which i've begun. Besides, there were a lot of gaps in my information and the memory is not as good as it could be. The rest of the time we spent looking for vegan restaurants. I had to suspend my no-added fat rule which had later implications, compounded by having to continue imbibing fat in available food of the streets in Thailand. Passing through Toronto, i was hosted by super-activist Maurice Tomlinson and husband Tom Decker. I was also able to re-connect with Phillip Pike, filmmaker of Songs of Freedom (2003) in which i appear. As fate would have it, my grand-nephew, Simon Chong, was in Toronto, having just returned from a year in Chiang Mai. I met him for lunch and he gave me the low-down and encouraged me in my plan. He has yet to send me the selfie we took so no image here. The long return bus rides to Montreal from DC served as endurance training of sorts for my upcoming globe-trotting flight to Bangkok.
Be like the bird that, passing on her flight awhile on boughs too slight, feels them give way beneath her, and yet sings, knowing that she hath wings.
~ Victor Hugo ~

Dave at home

More than a friend, really, Dave Young is like the brother i never had. DC friend Raghu ventured i had found my twin. In our early chats i discovered i knew Dave's mother, Peggy Lowe, who hailed from St. Ann's Bay and went to St. Hilda's with my two eldest sisters. I knew all of Peggy's family. Her younger brother Dennis was at one time manager at Scotiabank in Brown's Town, and lived down the street from us at Minard Heights. Shortly after i returned from college in California, Arthur Lowe, another brother, gave me a job as illustrator and designer in his architectural practice on Old Hope Road in Kingston. Also a designer, Dave went to Parsons in New York. His home reflects his fine eye for detail and exquisite taste. Besides sharing phenotype and a Chinese-Jamaican upbringing, we are close in age and both out gay, though he is partnered and i'm stubbornly unattached. He capitulated to his family's priorities by qualifying as a pilot, over pursuing his artistic inclinations, and by getting married and fathering a son. After his divorce and years spent in Toronto, he relocated to Thailand 15 years ago.

Further, Dave's dad thinks that his mother (Dave's grandmother) Irene Chang Young is my first cousin, which would make Dave and i first cousins twice removed. Irene could very well be my father's elder brother's daughter but i will have to wait for evidence to be sure. Another genealogical note, the Lowes are related to Paula Madison whose book and documentary Finding Samuel Lowe, about her search for her grandfather, made the rounds this year.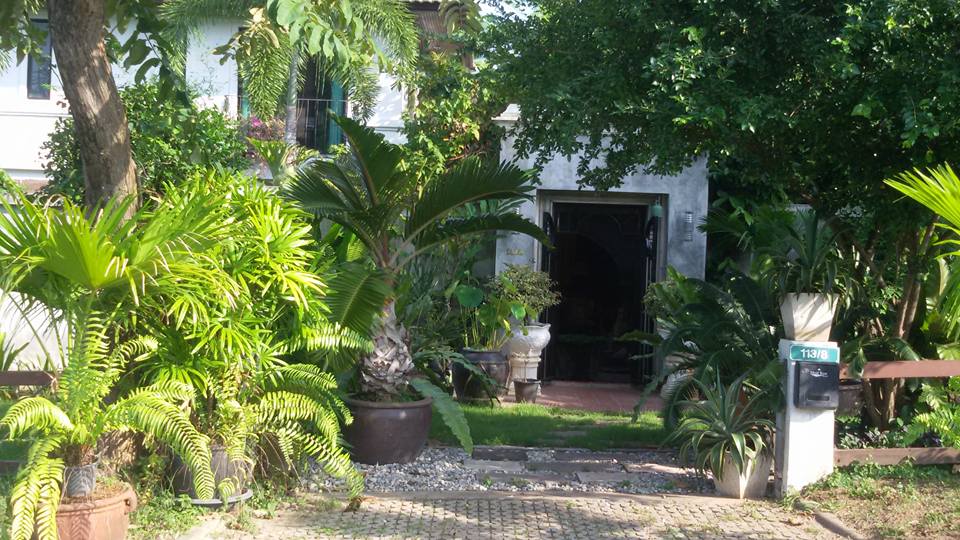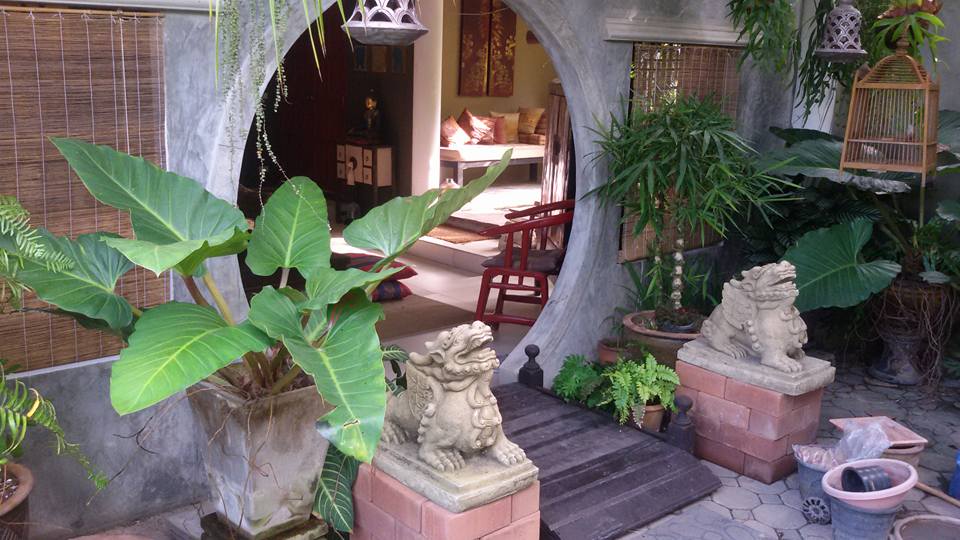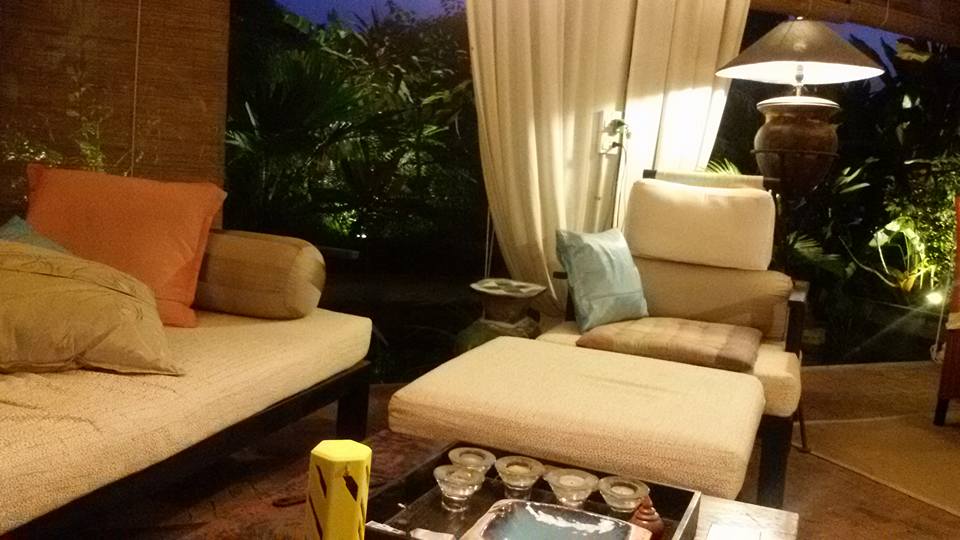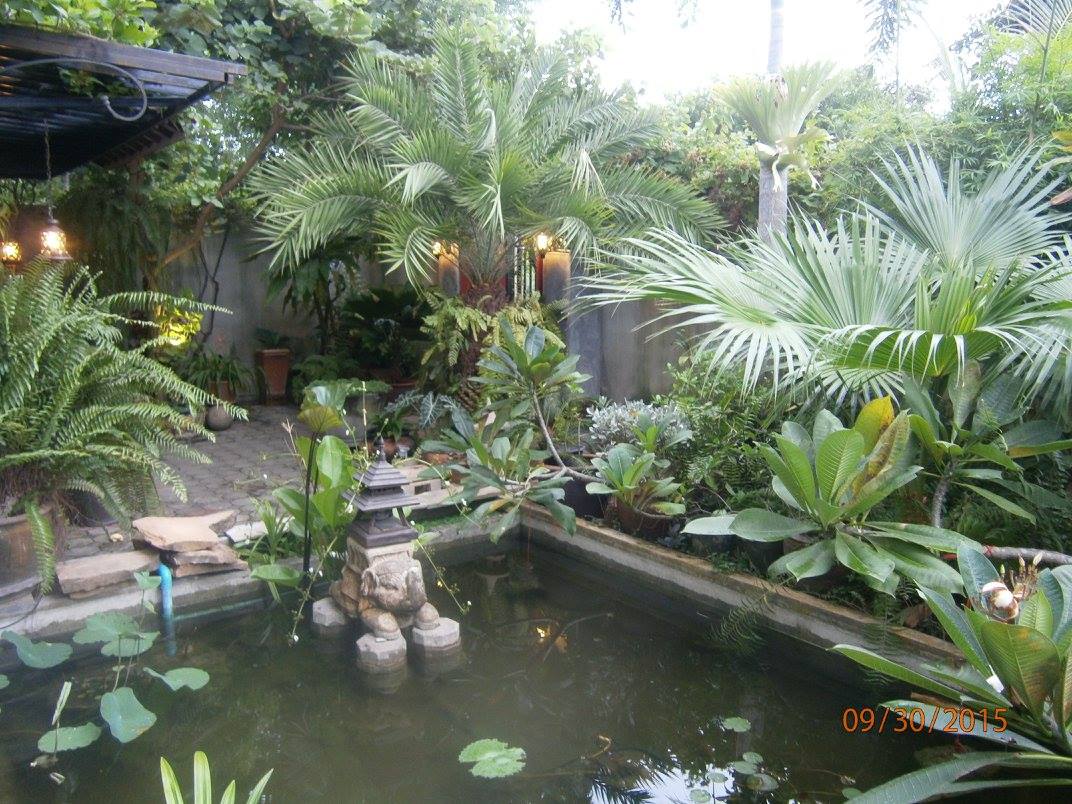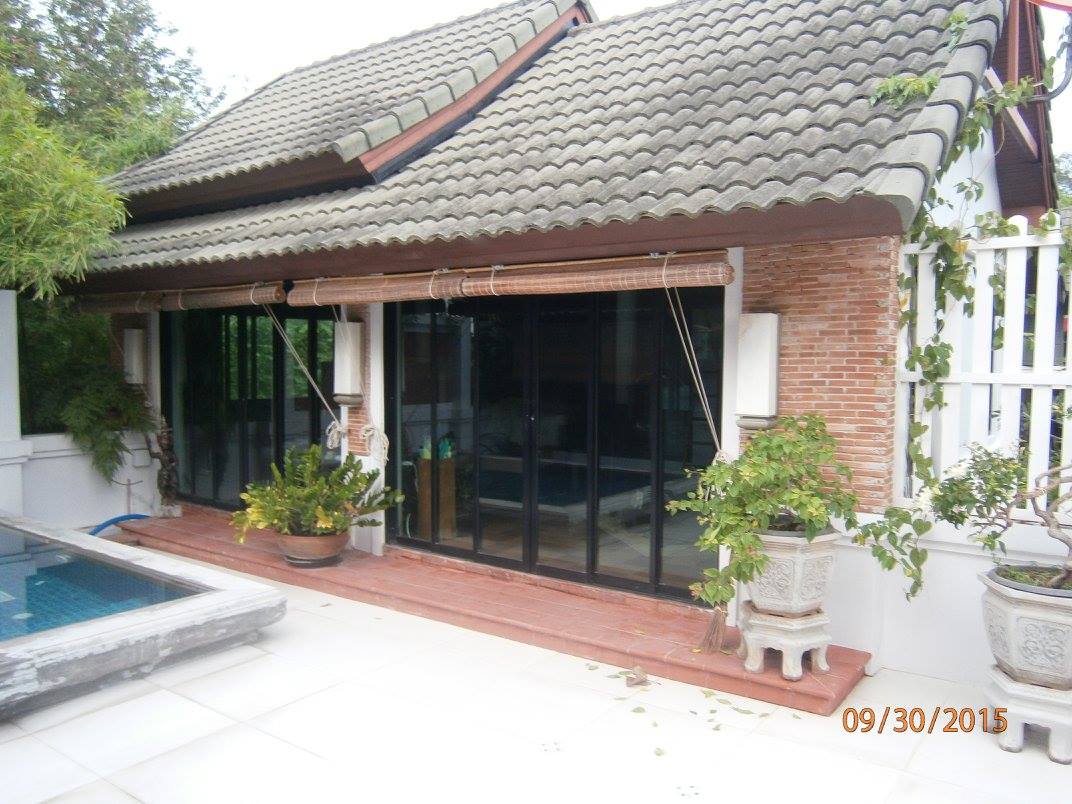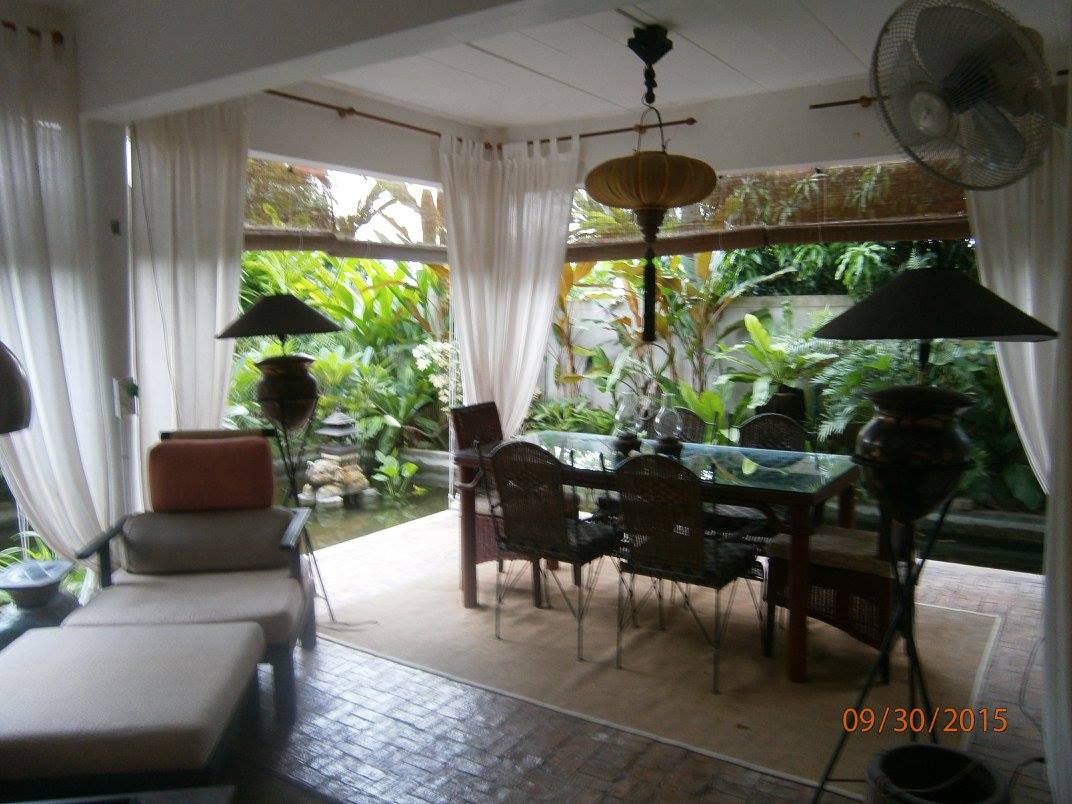 Dave's home at Huayyai, Thailand
I stayed a month with Dave in his idyllic home near Pattaya, one of Thailand's resort areas, where we had much to share. He taught me much about life in Thailand. With this introduction and preparation i moved to Chiang Mai, the Rose of the North, capital of the Lanna Kingdom, one of the constituent predecessors of the Royal Thai Kingdom. There is so much history and romance here, i'm still in awe of the sights and culture, from the old walled city and moat to the numerous lavish Buddhist temples. The odd thing though i have discovered about Thai dwellings is that the kitchens are rudimentary so it was a challenge for me to find suitable accommodation. The one-bedroom apartment i settled on was the third choice as the first which did have a full kitchen was gone, the second had inadequate counter-space and a too small fridge. It is imperative that i cook to maintain my no-added fat regime, as i discovered to my peril that even Thai vegan food is riddled with fat and sugar. The condo's location turned out to be fortuitous, in walking distance from services and an organic market run by Chiang Mai Unversity across the street. The complex also has a small gym on the ground floor, making it very convenient for me to work out while eliminating a monthly fee like the $40 i used to pay at the YMCA in DC. The equipment though is old, not serviced adequately, but useable.
Simplicity of living means meeting life face to face. It means confronting life clearly, without unnecessary distractions, without trying to soften the awesomeness of our existence or masking the deeper manifestations of life with pretensions, distractions and unnecessary accumulations.
~ Duane Elgin ~
Apart from a health relapse where my angina symptoms returned, due i conclude to imbibing fat in the food available during my journey, i'm adjusting to life in Thailand. The intolerable heat and humidity has abated as Chiang Mai, at least, moves into its cooler winter phase, somewhat delayed this season i gather. I miss the mobility provided by DC's comprehensive public transit system, much as residents there complain, but i'm getting used to catching the local song thaews, converted pickups that provide Chiang Mai's public transportation. Tuk-tuks are available but their fares are higher and emissions more noxious. Otherwise, i trek long distances if only to explore and acquaint myself with the lay of the land.
If there is one thing i miss, it is friends and associates with whom i can easily converse. The challenge of learning Thai is that, even if i do acquire a degree of fluency, it will never be at a level that allows more than the most rudimentary conversation. I'm getting to understand also that Thais generally do not entertain philosophical and intellectual exchange, and those that do, speak English anyway, having been abroad or exposed to Western education. So just to connect with like minds, or at least tongues, i have sought association in the farang (expatriate) community, joining a Socrates Club through Meetup, and a Writers Without Borders group. The stereotypical assumption that the members are mostly white happens to be correct, the participants hailing from Australia, Britain, the US and Europe. I am often the only POC in attendance, and obviously, the only Jamaican, always the odd one out.
To be a genuine individualist requires a great deal of strength and courage. It is never easy to chart new territory, to cross new frontiers, or to introduce subtle shadings to an established color.
~ Toller Cranston ~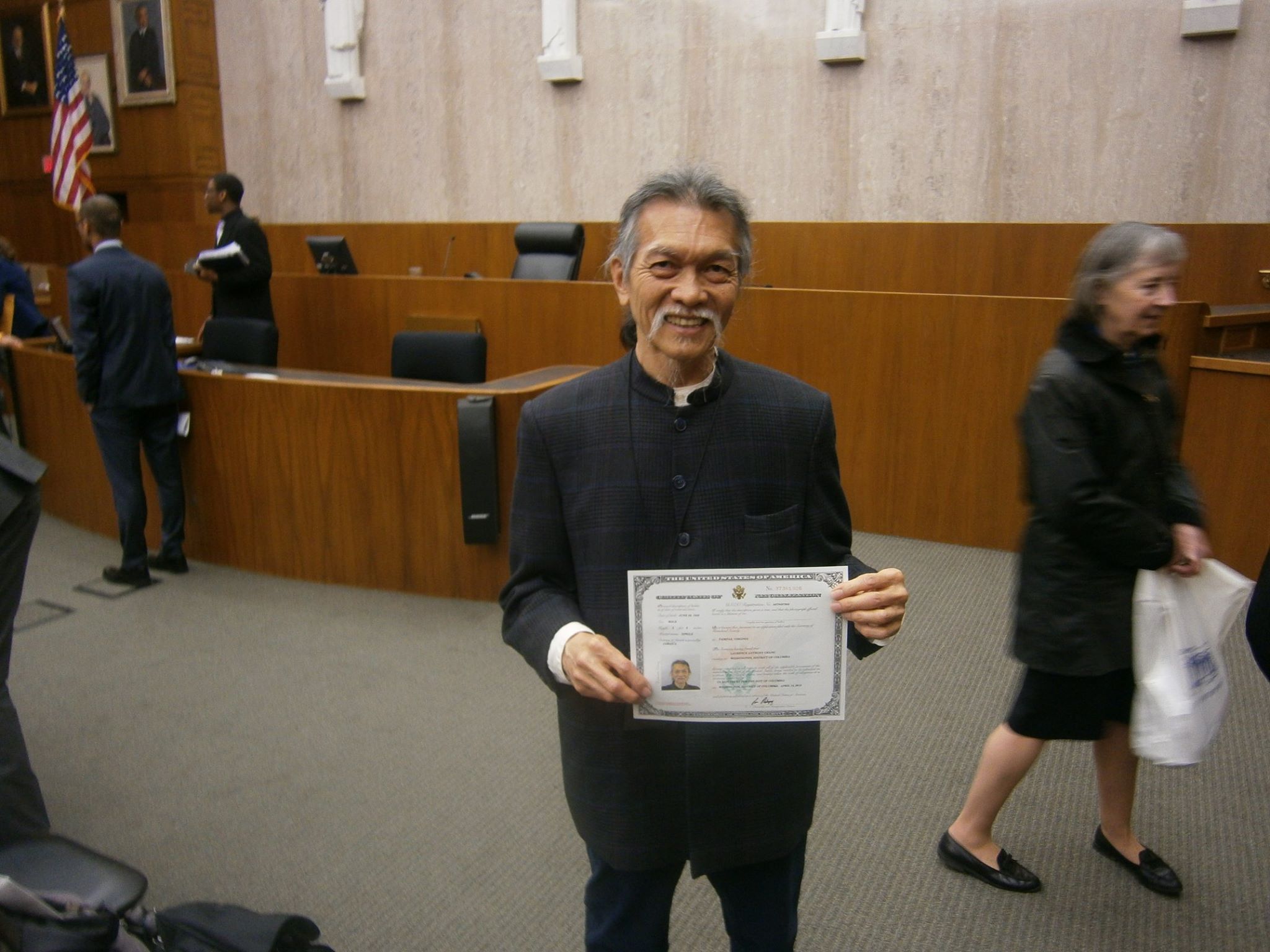 Showing off my citizenship certificate.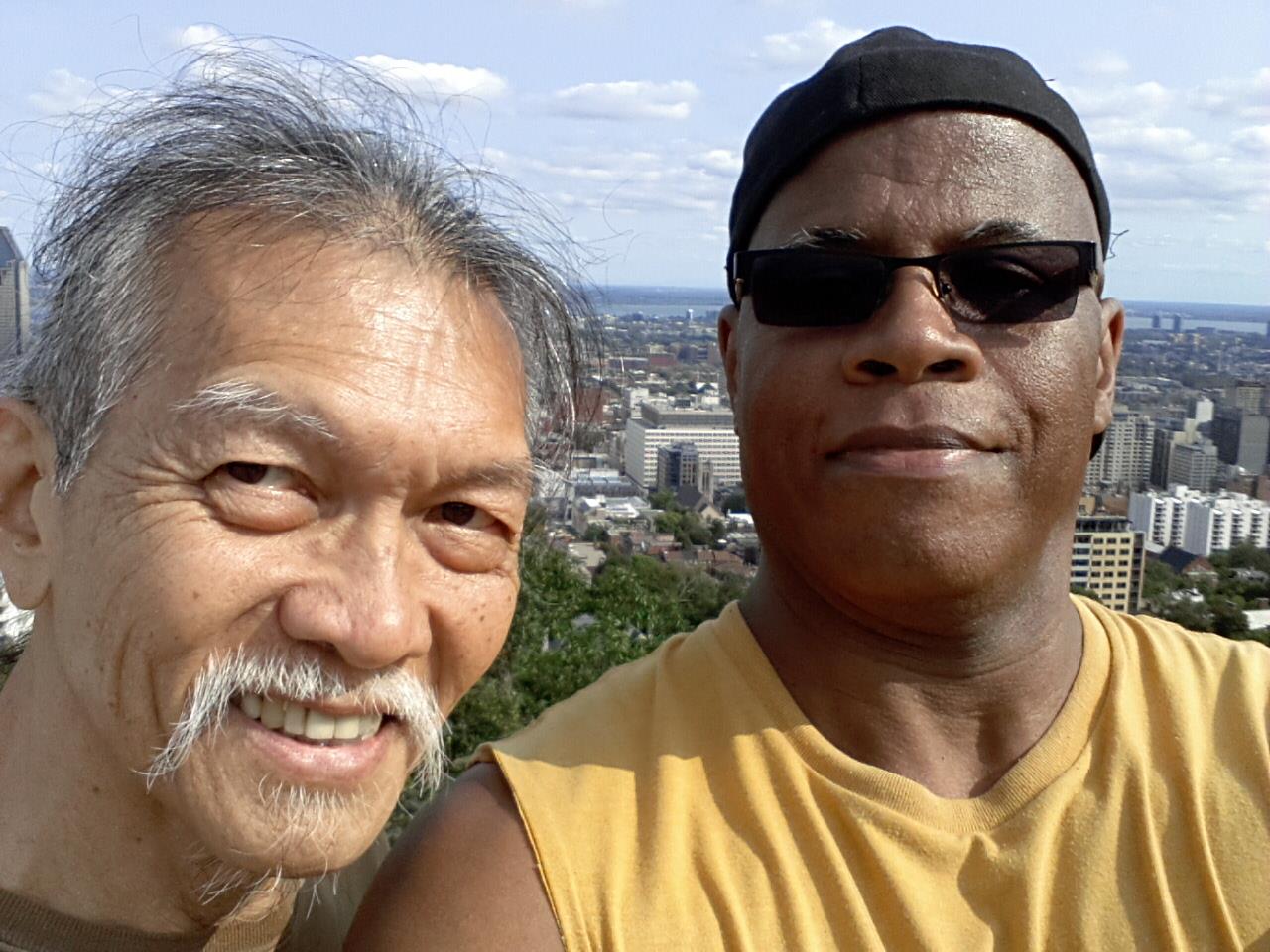 With Mark in Montreal atop Mont Royal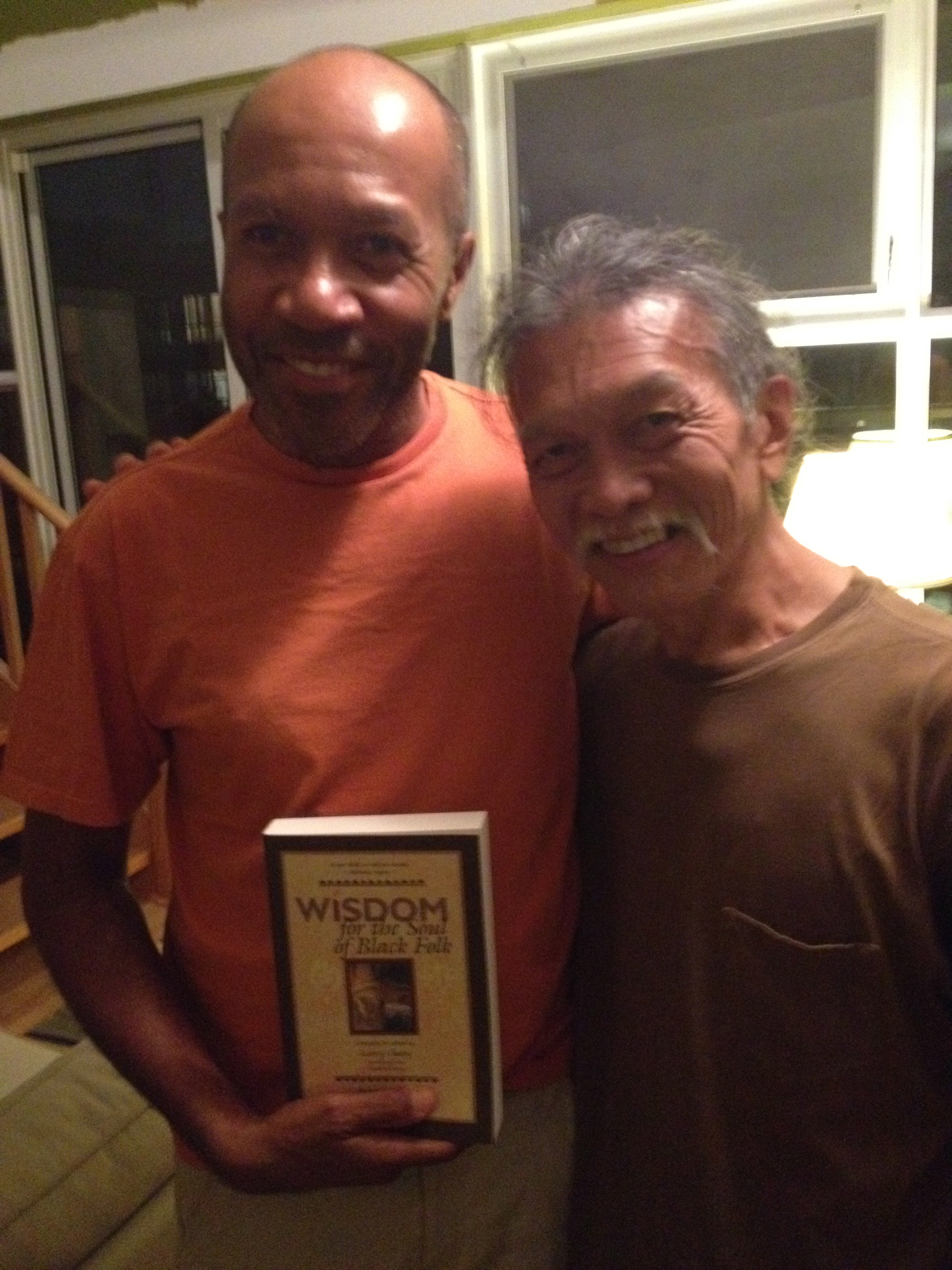 With Phillip in Toronto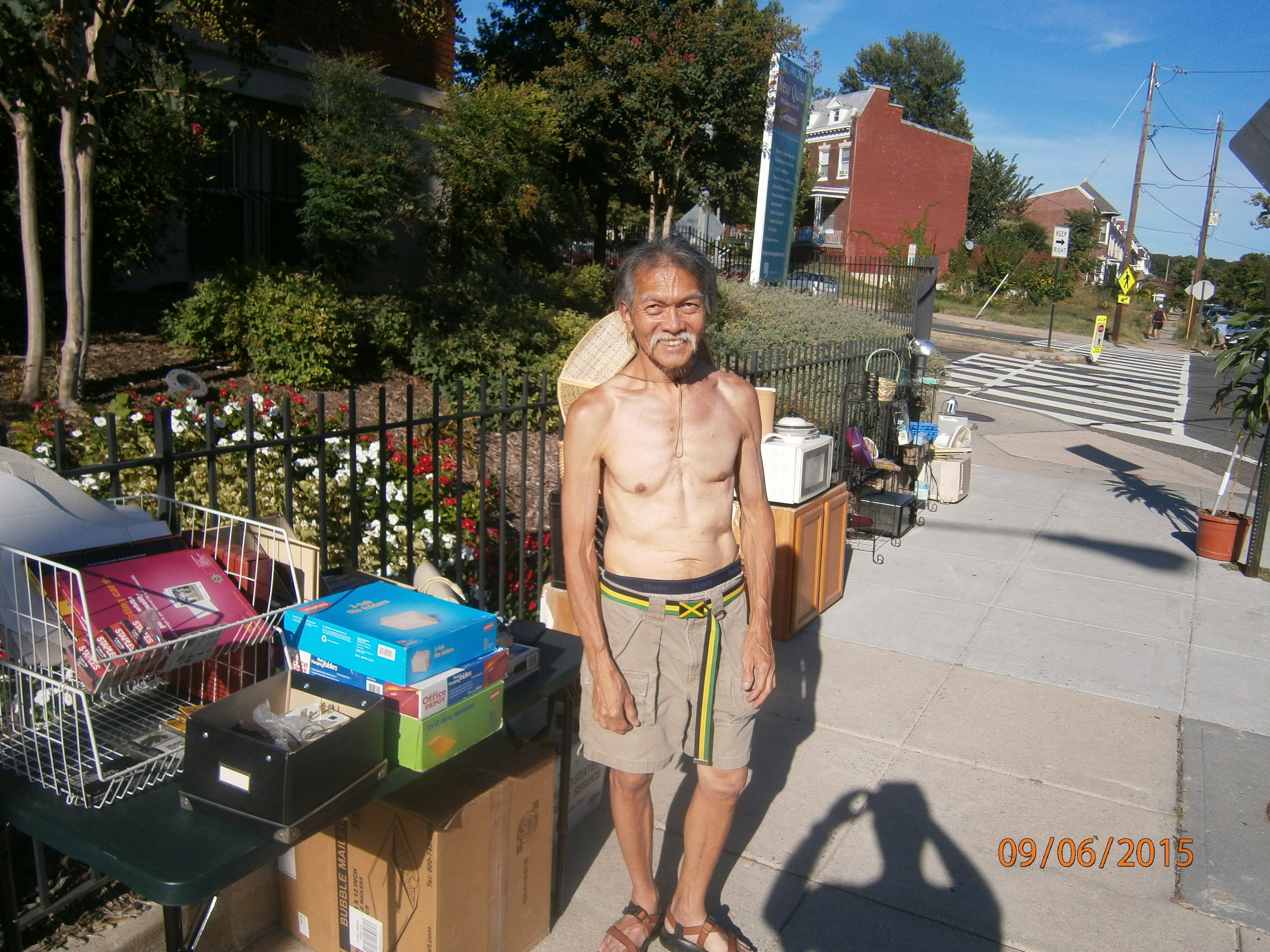 On the sidewalk in front of 3800 New Hampshire Avenue.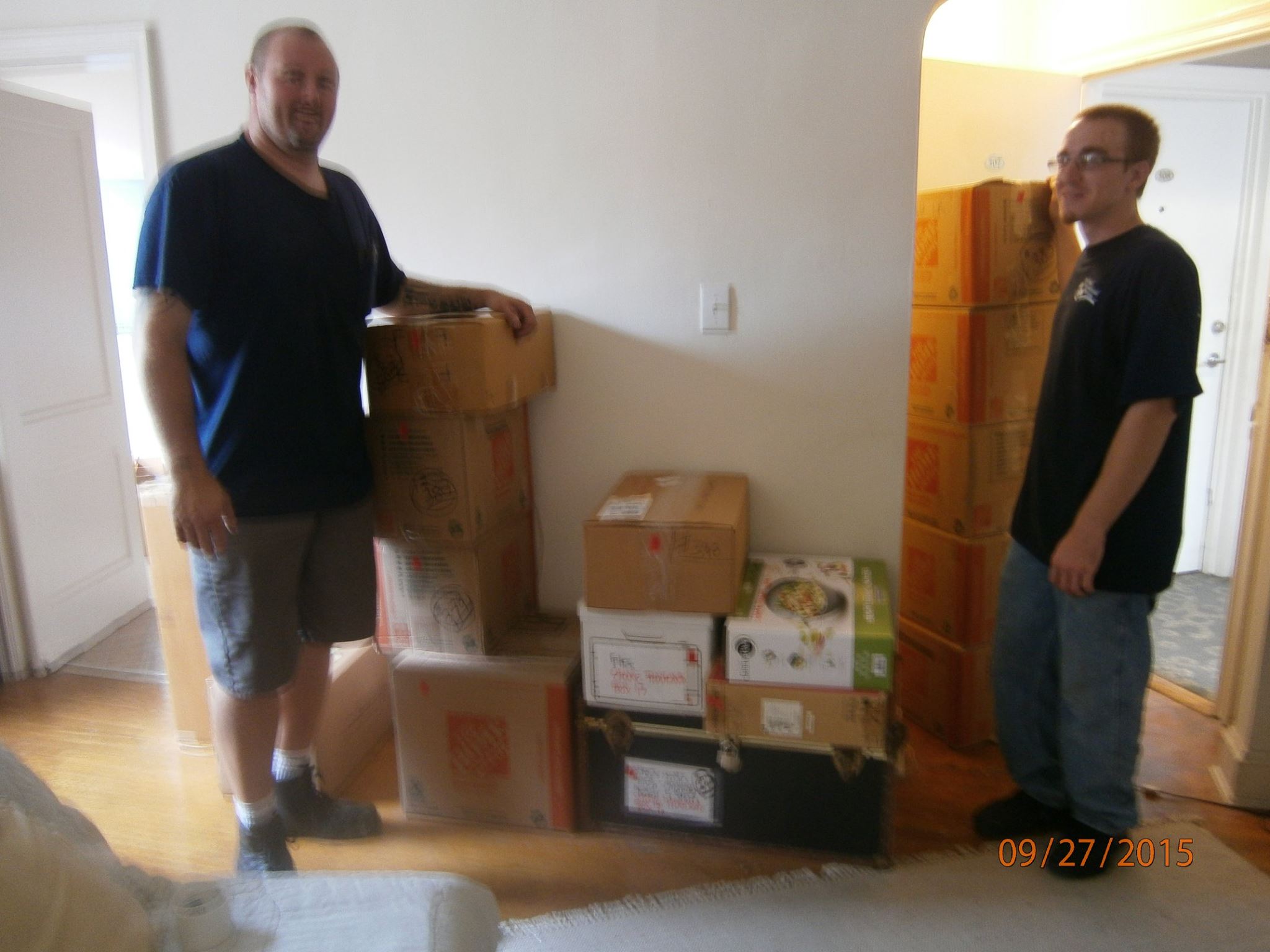 Personal effects packed for storage and later shipping
Longest my hair's ever been after 3 years of saving barber costs. It has since been cut, taking advantage of affordable Thai rates.
Photo Maurice Tomlinson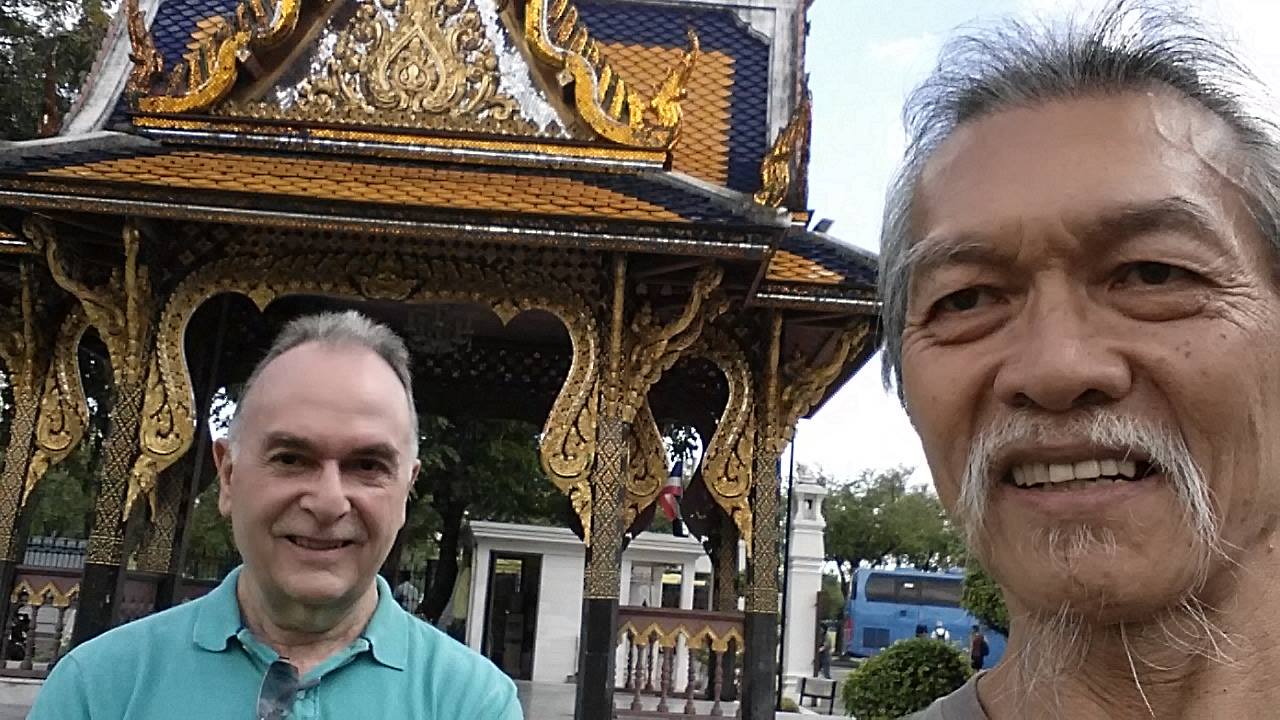 Caught up with Mike Morrissey in Bangkok at the National Museum